Day 2: Phillis Wheatley
Phillis Wheatley is said to have been kidnapped and sold into slavery around the age of 8 or 9 from Senagambia, and brought to North America on the Slave Ship called The Phillis. She was purchased by The Wheatley Family of Boston who taught her to read and write and encouraged her poetry.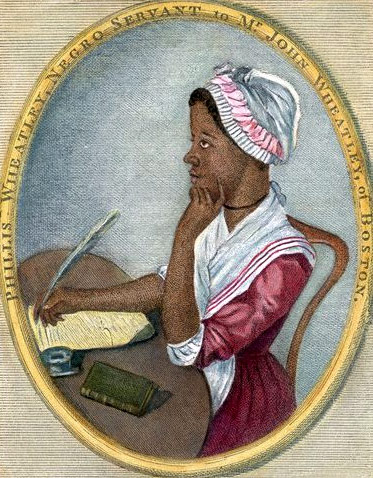 Wheatley poetry expressed Christian themes and many of her poems were dedicated to famous figures. It is guessed that a third of her poems were elegies, the rest have religious, classical and abstract themes. She was influenced by Alexander Pope, John Milton, Homer, Horace and Virgil.
Thomas Paine published her poem in the Pennsylvania Gazette. The Poem was entitled "To His Excellency George Washington" and was written in 1776. Washington invited Wheatley to his home for a personal reading.
Wheatley was freed in 1778 upon the death of her Master as per his Will.
Wheatley was accused of not writing the poems and had to go before a judge to prove that she in fact was the poet. She also came "under fire" for not writing more about slavery.
With the 1774 publication of her book, "Poems on Various Subjects," Wheatley became the most famous African on the face of the earth.
Wheatley died at the age of 31 on December 5, 1784, I believe from the complications of child birth as she was poor and her infant son died 3 1/2 hours after she passed away.
On Being Brought from Africa to America [sic]
Twas Mercy brought me from my Pagan land,
Taught my benighted soul to understand
That there's a God, that there's a Saviour too:
Once I redemption neither sought nor knew
Some view our sable race with scornful eye,
"Their color is a diabolic dye,"
Remember, Christians, Negroes, black as Cain,
May be refin'd, join th' angelic train.