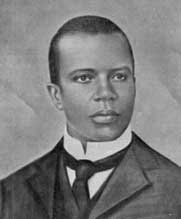 There is speculation of his birth, however it is guessed that he was born around 1867 in East Texas. Joplin was a pianist, composer and music teacher. Joplin achieved fame for his ragtime pieces and was dubbed The king of Ragtime.
Joplin grew up in Texarkana where he formed a vocal quartet and taught mandolin and guitar. He traveled to Chicago for the 1893 World's Fair, which played a major part in making Ragtime a national craze in 1897. Joplin moved to Sedalia, Missouri in 1894 and earned a living teaching Piano and touring the South.
He began publishing music in 1895 and with the publishing of The Maple Leaf Rag in 1899, fame and a steady income followed.
Joplin moved to St. Louis, Missouri in 1901 and continued to publish music and regularly performed in brothels and bars in the cities Red LIght District. It is believed that Joplin may have been experiencing discoordination of his fingers, tremors and the inability to speak as a result of contacting Syphilis. He also lost the score to his first opera, A Guest of Honor and many of his belongings due to non-payment of bills and is considered a lost.
Joplin then moved to New York, looking for a producer for his new Opera. Tremonisha was not received well at it's partially staged performance in 1915. In 1916 suffering from tertiary syphilis and by consequence rapidly deteriorating health, he descended into Dementia. He was admitted to a Mental Institute in January 1917 and died 3 months later in April at the age of 49.
HIs music was rediscovered and returned to popularity in the early 1970's with the release of a million-selling album of Joplin's rags recorded by Joshua Rifkin, followed b the Academy Award winning movie, The Sting, which featured several of his recordings. Treemonisha was produced to wide acclaim in 1972. in 1976 he was posthumously awarded a Pulitzer Prize.